Christophe Robin's Ultimate Hair Ritual for Boosting Volume
If you've been suffering from hair that feels limp, lackluster and brittle, and always wished to add a boost of volume to your fine hair, Christophe Robin's Volumizing HairCare Range is set to change your life, forever. Revealing his best-selling range to the region, these Volumizing products are specially formulated with pure Rassoul clay and rose extracts to give your strands natural volume and fullness without weighing it down, with a light floral scent.
Natural and rare active ingredients have always played a key role in Christophe Robin's products and this range combines Christophe's in-depth hair expertise with his discovery of the Rassoul clay to adapt it to modern times. Derived from the Arabic word rassala, meaning "to wash", Rassoul clay can only be found in the Atlas Mountains of Morocco and has been used as a skin treatment for centuries.
A new take on traditional cure, Christophe created this innovative formula to target even the thinnest hair, and restore its balance to the scalp, while repairing it from within. His original formula is a unique combination of rose water, plant extracts, and 100% pure and natural Rassoul.
Available exclusively at Sephora Middle East, Christophe Robin's Volume Range consists of a Cleansing Volumizing Paste, the Volumizing Shampoo, followed by the Volumizing Conditioner and complete with the Instant Volumizing Mist.
Christophe Robin Cleansing Volumizing Paste with Pure Rassoul Clay and Rose Extracts Shampoo
Price: AED180 (250ml)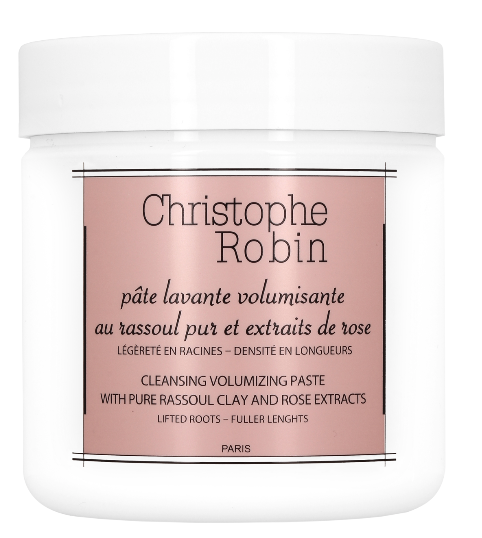 Enriched with pure Rassoul, this clay mask acts as the perfect cleansing paste to protect and enhance the colour of your hair while adding volume to the roots.  Take a quarter-size dollop of the paste and watch it easily transform onto wet hair, turning into a foamy mousse which soaks up excess oil from your scalp, soothes irritation and breaks down dirt and grime.
While Rassoul is the hero ingredient, this formula also contains protective rose extracts to shield scalp irritation, and Limnanthes to preserve hair colour. The secret is to massage it delicately into the roots and let it stay for atleast two minutes before washing it out to give the hair an extra boost of volume. Results are visible almost immediately – soft and bouncy hair that will stay for several days afterwards.   
Christophe Robin Delicate Volume Shampoo with Rose Extracts
Price: AED 110 (250ml)

An ideal daily haircare routine for those with fine and sensitive hair, this formula is enriched with rose water and extracts of fortifying baobab extract to gently cleanse, preserve color, and restore volume and softness. Rose extracts combined with an acidic pH tighten the scales of the hair to limit the loss of pigments and keep your color brilliant and fresh.
Formulated without any parabens, silicones, SLS and free from colorants, this product is suitable for all hair types and helps in regaining its tone and body, leaving it easy to style.  Alternate the cleansing paste with this volumizing shampoo for maximized effects.
Christophe Robin Volumizing Conditioner with Rose Extracts
Price: AED 125 (250ml)

Keep your fine hair in good shape with this conditioner that ensure the softness and shine that every head of hair deserves. Combined with essential vitamins and hydrating minerals, this conditioner replenishes hair's moisture while giving your locks that extra boost of volume and vibrancy, perfect for preserving colour-treated hair.
Ideal to be used after using the Cleansing Volumizing Paste or Volumizing Shampoo, this is made with a blend of antioxidant Vitamins A & E, rose water and baobab leaf extracts to maintain radiance without drying out the strands. Apply a small amount onto the lengths and delicately massage to emulsify before rinsing entirely and watch your hair revive its fullness and tone.
Christophe Robin Instant Volumizing Mist with Rose Water
Price: 115 AED (150ml)

The perfect mid-day pick me up for fine hair, this is also the final step in your luxury haircare routine to achieve greater volume. Christophe Robin's Instant Volumizing Mist with Rose Water is devised to protect colour, nourish the hair fiber and enhance your hair's body and volume – without drying out the hair. This innovative, alcohol-free formula is composed of 96 percent rose water with softening properties, which delivers natural hold, while natural rose extracts prevent oxidation of colour for a refreshed, healthy look.
Apply either on towel-dried hair or apply on dry hair in between washes to refresh your hair's volume and subtly perfume it. Hair is left styled to perfection, super-soft and delicately fragranced; this antioxidant spray creates coiffed volume without crunchy texture.
Available to purchase on www.Sephora.ae and across Sephora stores in the Middle East.