Cherish Swissotel Family Moments this Festive Season
Take in the spirit of the holidays amidst a world of magical family moments as Swissotel Al Ghurair welcomes discerning diners and residents into a season of merriment and fun-packed activities, taking them on a Festive journey. With a delicious Lindt Festive Afternoon Tea, special Christmas Eve and Day feasts, daily culinary delights and spa surprises; all filled with excitement and joy, guests will be spoilt for choice while mailing their wishes to Santa!
---
Letters to Santa Swissotel Al Ghurair offers the opportunity to guests, to send special messages, good thoughts, wishes and love this Christmas, collected from the letterbox at the Lobby and placed around the city in various locations. Swissotel' elves help them send a thoughtful wish or a heartfelt message to Santa and will help him pick three lucky winners to enjoy special festive surprises at the hotel.  Winners will be announced on 25th December 2021 on its Instagram page @swissotelalghurair.
---
Festive Turkey Takeaway and Free-Delivery
This season, let the expert chefs at Swissotel Al Ghurair prepare a feast for your loved ones, that you can enjoy from the comfort of your home or office. Available to pre-order, Traditional Roasted Turkey is cooked to perfection and is carefully packaged with all the traditional trimmings and favorites like Roasted Chestnuts, Brussels Sprouts, Herb-roasted potato, along with homemade festive desserts.
Festive Turkey is available for pick-up at Yasmine Lounge, as well as for free delivery at any location in Dubai, from 25th November until 25th December, from 11 a.m. to 9 p.m.
Priced at AED 599 for a 7kg turkey complete with all trimmings for up to six persons and AED 699 for an 8 -9kg turkey serving up to ten persons.
Guests can place their order before the 17th December, and avail of an Early-bird offer of 15% discount, and Accor ALL members can avail of a 20% discount.
All orders require 72 hours' notice. 
Terms and conditions apply. 
Online orders can be placed from https://forms.gle/LkXDxd7YTEYfUkaH7
---
Sinfully delicious LINDT Festive Afternoon Tea
Celebrating the Season of gifting and treats, Swissotel Al Ghurair launches for the first time an exquisite Afternoon Tea experience in collaboration with LINDT, the renowned Master Swiss Chocolatier since 1845. Inspired by the various notes of flavours in the Chocolate, the chefs at Swissotel and the LINDT Master Chocolatier, Matthew Müller, have together re-imagined a delicate Afternoon Tea experience. The specially curated menu with the luxury collection of LINDT chocolates, presents exquisite holiday treats of Candied Bacon-wrapped figs with chocolate dip, dark-chocolate crusted Chicken Terrine, and Steak Au Poivre skewers with Balsamic and dark chocolate drizzles. Adding to the sweet indulgences, the menu also features white chocolate truffles, milk chocolate Swiss rolls, and dark chocolate and raspberry tarts, along with a selection of Hot Chocolates, luxury teas and coffees.
Complementing the LINDT Festive Afternoon Tea experience, guests can participate in the advent calendar countdown at the beautiful life-size "Giant Gift Box of Gifts", where as soon as the clock chimes 4 p.m., Santa's help appears to find out if children have been nice or naughty, and announces a lucky winner daily.
Also adding to the Festive spirit, taking place on 8th, 15th, 21st and 22nd December, children can spend time at Swissotel's Gingerbread House making workshop, and get a chance to meet Santa while their parents sip and savour the festivities.  The pastry chefs will teach the "Little Explorers" how to build their own gingerbread creations with icing and sweet decorations.
LINDT Festive Afternoon Tea is served daily from 28th November until 7th January, at the Yasmine Lounge from 12 p.m. to 6 p.m. and is priced at AED 135 for two adults and one child up to 12 years, and AED 39 for additional children.
Accor ALL members can avail up to 15% discount on the LINDT Festive Afternoon Tea experience. 
Collaborating with Al Jalila Foundation, Swissotel Al Ghurair promises to match the donation of AED 10 per Lindt Festive Afternoon Tea set sold. 
The "Giant Gift Box of Gifts" advent calendar sits majestically in the lobby of Swissotel Al Ghurair and hosts the countdown until Christmas at 4 p.m. daily. All guests staying or dining at the hotel can participate in the advent calendar countdown. 
The Gingerbread House making workshop will take place on 8th, 15th, 21st and 22nd December at 2 p.m. to 4 p.m., complimentary for one child per two adults who join the LINDT Festive Afternoon Tea experience at AED 175and AED 75 for additional child. 
Advance booking required
---
Traditional Thanksgiving Brunch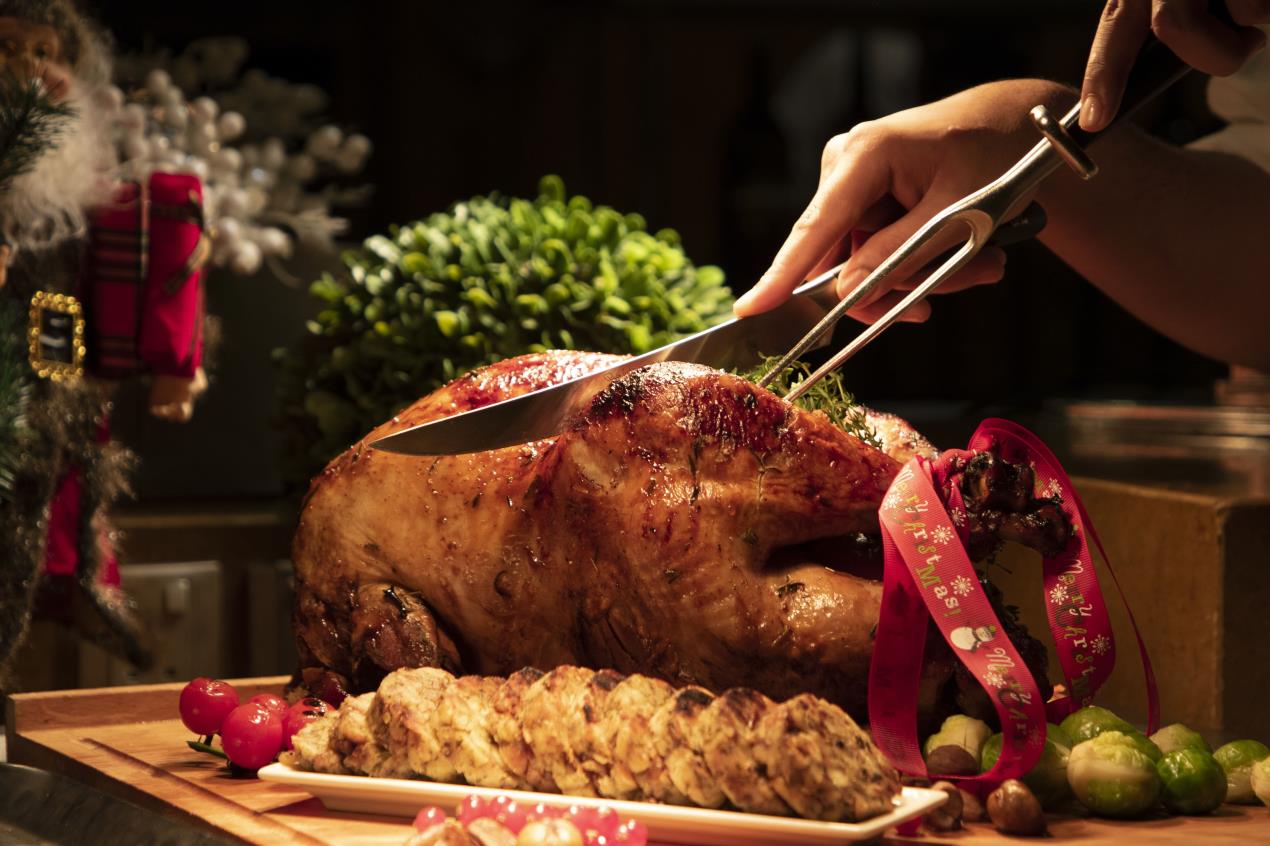 Promising the treasured flavors, trimmings and cranberry sauce and mince pies, the "Around the World" Friday Brunch at Swissotel Al Ghurair celebrates the traditions of Thanksgiving in a family-friendly brunch. The special menu includes Balsamic Glazed skewers of Wagyu Beef, Duck Confit Galantine with apricot, pistachios, grape chutney served with home-made pickles and a live carving station of Honey-glazed whole Turkey with its trimmings.
The Swissotel Traditional Thanksgiving Brunch will be available at Liwan restaurant from 12.30 p.m. to 4 p.m. on Friday, 25th November 2021, and is priced at AED 175 per adult, AED 88 per child aged between 6 to 12 years, and is complimentary for children below 6 years.
---
The Magical Christmas Tree-Lighting Ceremony is back
Cherish a magical evening with friends and family as the beautiful 20-feet Christmas Tree in the lobby lights up with festive decoration and the beautiful tunes of the Swiss International School choir. With melodies of the Christmas carols echoing in the lobby, delicious pass-around of canapés and Festive drinks, a dedicated "Little Explorers" Play Area, and a gingerbread house making workshop, guests can indulge in a Festive evening of love and laughter.
The Christmas Tree Lighting ceremony will take place on Wednesday, 8th December at the hotel lobby from 6 p.m. onwards, and can be availed by all paying guests of the LINDT Festive Afternoon Tea and gingerbread house making experience. 
Throughout the Festive Season, guests can also purchase delectable Festive treats, cookies, Yule Log, White Chocolate Mousse cup, milk chocolate pecan crème brulée, along with LINDT Festive collection of chocolates at the Festive Confectionery Pop-up Yasmine Lounge from 11 a.m. to 7 p.m. from 28th November to 25th December 
---
Christmas Eve Dinner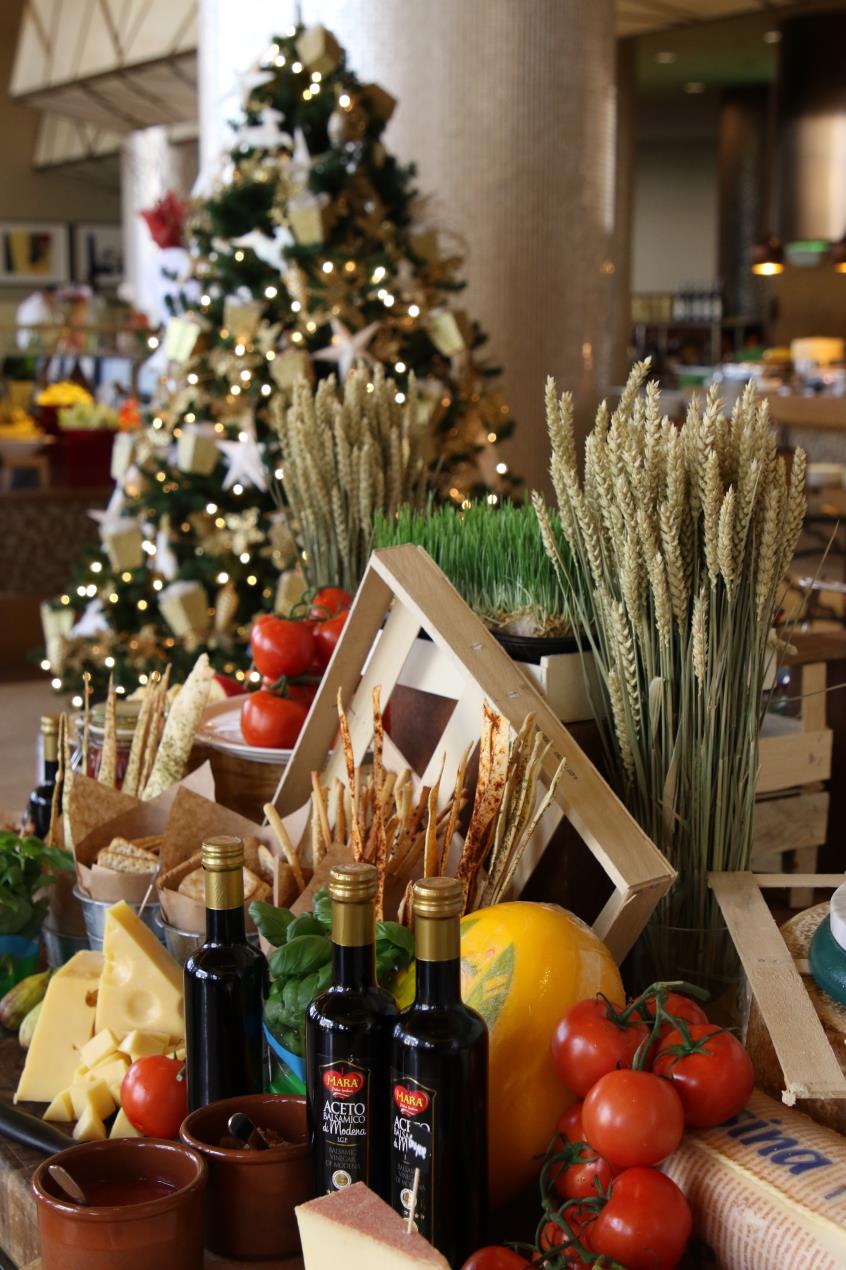 Celebrating the Festive spirit, Swissotel Al Ghurair presents a lavish dining experiences during the day where families can enjoy a leisurely Christmas feast of Festive delicacies, as the magical Christmas Eve sets in.
Christmas Eve Dinner includes a delicious buffet including Festive Specialties of Chicken Roulade stuffed with dates, walnuts and cranberry with apricot chutney, Salmon Coulibiac with saffron cream with dill sauce and tomato coulis, and sweet treats like Giant Yule Log and Peppermint brownies.
The Christmas Eve Dinner is available at Liwan restaurant on Friday, 24th December, from 6 p.m. to 11 p.m. and is priced at AED 175 per adult, AED 88 per child aged between 6 to 12 years, and is complimentary for children below 6 years.
---
Swissotel Christmas Day Lunch
Waking up to the crisp Christmas morning, to the tunes of jingle bells, and the excitement of unwrapping the gifts from Santa, families are invited for cherishing a traditional Christmas lunch complemented by children's activities.
Indulge in Christmas specialties like Beef Wellington, infused cherry filling Red Velvet Yule Log with lotus crumble along with a spread of International buffet.
The "Little Explorers" have a blast with the special kid's activities, including Cookie decoration at the "Little Chefs", "Little Picasso", enjoy a Zumba class, and also get a chance to meet Santa.
Christmas Day Lunch is available restaurant on Saturday, 25th December, from 12.30 p.m. to 4 p.m. and is priced at AED 165 per adult, AED 83 per child between 6 to 12 years.
For more information on the above Festive dining offers call 04 293 3270, email [email protected], or visit swissotel-dubai-alghurair.com/dining/festive/
View Swissotel Al Ghurair's Festive Brochure here: https://bit.ly/3wYSlHf
---
Swissotel Festive Spa-rkles
Spa-goers can unwrap this season with Festive Spa-rkles and welcome the New Year rejuvenated at Swissotel Spa. Offering a soothing 60-minute Vital Detox Massage, that promises to revive and refresh tense muscles with special lymphatic techniques, with the goodness of essential oils of Peppermint and Lemongrass coupled with a 30-minute Nude Body Scrub Massage, an exfoliation session with Anne Semonin Nude Sea Salt and White Sand body scrub, soothing and nourishing the dry and tired skin.
Usually priced at AED 560 for the two treatments, the Swissotel Festive Spa-rkle offer can be availed at AED 390 per person, from 28th November to 31st December at the Swissotel Spa between 1 p.m. to 10 p.m. Terms and conditions apply. 
For appointments, please call 04 293 3322, email [email protected], or visit  swissotel-dubai-alghurair.com